By • • 13 Nov 2011
urbanSTEW is comprised of the following artists:
Robert Esler (robert <at> urbanstew <dot> org):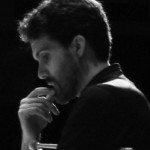 Robert is a percussionist dedicated to the interdisciplinary possibilities of music, media and science. He has performed throughout the world as a soloist at many electronic music festivals and venues and has written articles for several computer music organizations. Mr. Esler also regularly performs with Crossing 32nd St., a Phoenix based contemporary music group, and plays Filipino indigenous music with the Pakaraguian Kulintang Ensemble. His playing can be heard on Cantaloupe Records, CIEM, Tzadik Records and Mode Records. He currently teaches at Scottsdale Community College.
Stjepan Rajko (stjepan <at> urbanstew <dot> org):
Stjepan is a professional software developer at Axosoft, where he works on mobile and web applications.
He graduated in 2009 with a Ph.D. in Computer Science and an M.F.A. in Dance at Arizona State University (both degrees with concentrations from the School of Arts, Media and Engineering), and holds B.S. and M.S. degrees in Computer Science from Iowa State University. His research focused on the analysis of human movement, with an emphasis of recognition of patterns such as gestures, or inference of certain movement qualities.
Lisa Tolentino (lisa <at> urbanstew <dot> org):
Lisa is an interaction designer and experimental percussionist pursuing a Media Arts and Sciences PhD at Arizona State University. Her research focuses on culturally transformative learning environments for special education. As a member of the K-12 Embodied and Mediated Learning Group at the School of Arts, Media and Engineering (AME), she leads a team of teachers, researchers, and designers to build mixed-reality experiences that enhance social interactions for youth with autism. Lisa performs regularly with Crossing 32nd Street, a Phoenix-based contemporary music group; and Rules of Play, a contemporary music duo with Robert Esler.
Jessica Rajko (jessica <at> urbanstew <dot> org):
Jessica, a native of Kalamazoo, MI, completed her BA in dance and psychology at Hope College ('05) her MFA in Dance and Interdisciplinary Digital Media at Arizona State University ('09). Upon completing her masters, Jessica was recognized as the outstanding graduate of the year for the Herberger Institute for Design and the Arts. Her work with movement and media includes dance for camera, audio/visual installations with movement sensing, electronic wearables, and dance/music performance with movement-based control of media. She is currently the Artist Services Coordinator at the Arizona Commission on the Arts. During her dance career, Jessica has had the opportunity to perform for artists such as Nora Chipaumire, Ashleigh Leite, Charlotte Boye-Christensen, Mary Fitzgerald, John Mitchell, Todd Ingalls, Karen Schupp, and Steven Iannacone.